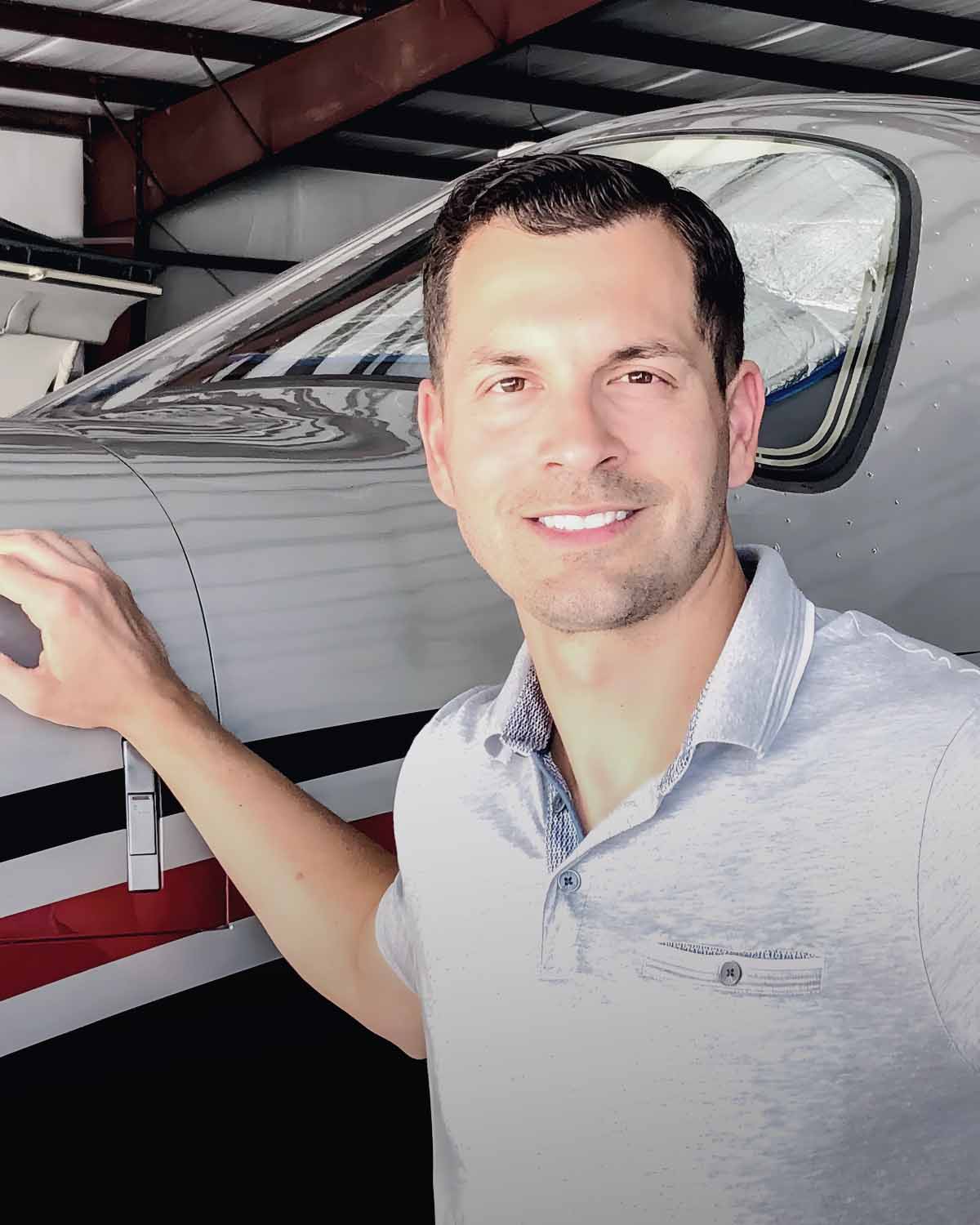 Jesse is no stranger to the flight levels or being entrusted with complex business transactions. Jesse earned his pilot's license in 2004, quickly climbing the ranks of CFI/CFII/MEI, followed by 5 years' experience flying regional jets. The generous schedule of the airlines afforded him the opportunity to see through several successful entrepreneurial endeavors. In 2012 Jesse transitioned into the business world, growing a startup with his brothers until it was acquired by Accenture, but he never stopped flying…
With these unique skill sets, it was natural for him to guide those around him through the acquisition and transition into high-performance aircraft, ultimately finding himself managing and contract flying Meridians. The opportunity to join Aerista in 2019 was an organic fit. Being a market leader for 15 years in owner-flown aircraft, Aerista brought Jesse on board as Director of Piper Sales to share his real-world pilot's perspective to those transitioning into turbine aircraft. In just over 3 years' tenure, Jesse has closed nearly 150 transactions, and takes great pride seeing his clients step up into pressurized comfort.
Jesse holds a Bachelor of Science in Aviation Technology from Utah Valley University and has amassed 6,000 flight hours across a variety of piston, jet, and turboprop aircraft. Living in a Texas airpark, Jesse spares no opportunity to fly his Cirrus SR22 to visit his clients or to take his family of four to the beaches along the Gulf Coast – and beyond.
"Aircraft brokers love to brag - listing planes they've already sold, touting their negotiating prowess, and chronicling their adventures. We could do the same, but you've seen that all before. What sets Aerista apart is the underlying quality of our agents and the focus of our company. We hire good people to do excellent work. Jesse personifies this - his passion for, and knowledge of, all things Piper is unsurpassed; his work-ethic is unshakeable, and his laser focus on producing the highest quality transaction is unwavering."
--Steve Schwartz, Co-Founder

Jesse has authored several MMOPA magazine articles:
"Jesse Adams at Aerista was very patient since I began looking for a plane in a VERY different category: single-engine piston, and much older. As I learned more from him, it was evident that the safety profile of a turbine, glass panel, was worth the higher price tag. I'm flying two kids around (often through a marine layer); so, safety matters to me much more than it used to. Jesse set honest expectations about operating costs, connected me with great insurance people, and even helped me find a school and instructor. Jesse was encouraging through my turbine transition, and it all worked out. I don't know how I could've found the right plane without a great broker! "
Dr. Muna Vienna, M600 N7828M
Turbine Acquisition
"I welcome N995S to her new home in South Texas – A Meridian Turboprop beauty with a fully integrated Garmin avionics "glass" system! And now a special 'Thank You' to: Aircraft Sales & Acquisitions and former Airline Pilot, Mr. Jesse Adams. Thank you, Jesse, for an exceptional job in leading the acquisition process and finding this fine airplane. I'm looking forward to starting where I left off in my passion for flying and look especially forward to helping those in need with my continued support for Angel Flight South Central."
Ernest Lugo, Meridian N995S
Turbine Acquisition
"Thank you for your help in selling my Meridian. You always responded quickly to my calls and messages, and provided with me with regular updates on inquiries about the aircraft. One of the things I found most useful was the analyses you sent on how my aircraft was positioned relative to comparable Meridians on the market. This helped me to establish asking prices that were competitive and that resulted in sale of the aircraft."
Bernie Abbott, Meridian N142EE
Turbine Brokerage
"Jesse Adams helped me with the whole process, including not only very honest guidance on the acquisition stage, but also on follow up such as tax advice, maintenance, and all kind of support that did not end after I signed the bill of sale. He advocated on my behalf during the pre-purchase and annual inspections, and even saved me some extra $$$ in that process. Jesse knows his trade... but is not the common sales person; he goes deeper understanding the client, respecting opinions and going the extra mile, not just to secure the deal for the seller, but to assure everybody is satisfied. I dealt before with other brokers, and I can attest to Jesse's effort in assuring your satisfaction at every level of the process and beyond. Do not hesitate to work with Aerista and Jesse... Thank you!"
Fernando Donatti, Cirrus N400EJ
Piston Brokerage/Acquisition
"I would like to thank Jesse Adams with Aerista for his handling of the sale of our Cirrus. From the start with his very thorough Appraisal Report, including recommended sales price range, through the final closing and funding, Jesse was professional and handled every detail of the sale. He got the listing on line quickly with a very thorough sales presentation. He kept me informed on every response, and in less than two weeks we had a very fair offer. His team communicated with me every step of the way. Jesse handled the negotiations and final contract amount, arranged for and piloted the test flight with the new buyer and flew the plane to the pre buy inspection mechanic. He expertly handled the repair negotiations with the buyer. The rest of the Aerista team took over from there, and all the details of the closing were quickly worked out including identifying and handling a paperwork issue with the previous owner's title. Nothing but kudos for Jesse and Aerista."
Tom Chapman, Cirrus N854SR
Piston Brokerage